One trend I've really gotten on board with is matte lips, I mean c'mon! Where my lazy girls at? – There is something very satisfying about applying a lip colour when you leave the house and not only does it last you most of the day A few hours longer than other lip products but it wont transfer OR need to be re-applied! That gets a big fat ole HELL YESS from me!
Now there are loads on the market, some formula's better than others and some more pricey, but earlier on in the year these Matte Lip Long Lasting Lip Glosses did the rounds in all the Facebook Beauty groups I was in and I got a few, they go for around 99p and up depending on where you buy them. Ebay seem to be the most popular place for buying them!
*Swatches on hand taken in natural daylight!
*Swatches on lips taken infront of ring light!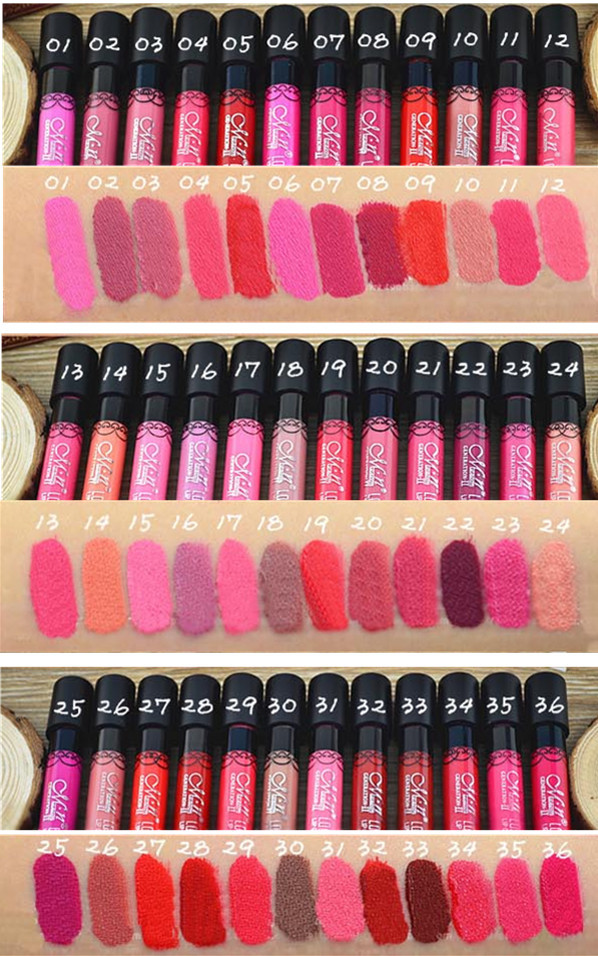 *Image taken off google!
I thought I'd swatch the colours I have both on my hands and on my lips and to just take note that on my hand they have been photographed in natural daylight but on my lips they have been photographed in front of a ring light!  I also took this bottom image off google to showcase the colours should any of you guys wish to bag a bargain! Now, I will say that the colours can seem a bit off, for example I also have number 27 but this is more luminous orange than it is blood orange red, granted it was only 99p and if I ever want a striking bold lip that will make it look like I have a traffic cone for lips I know what shade I'll be reaching for but nevertheless I hope you find a shade you like!
Please feel free to let me know if you get any or if you HAVE any and tweet me pictures of you wearing it :*